This page will be an introduction to our membership. Every month we will at random pick a Manty Malter member and that member will provide a brewing bio. This is a good way to get to know the members you may may not always get a chance to talk with. Below is this month's featured member. Remember, the rule is….if you don't get me your Bio on time, I will make one up for you.
Alex "TR-8R" Hartlaub
It has been a long time since we had a Malter of Month posting….mostly because we were waiting on the bio from our new Vice President, Mr. Alex "TR-8R" Hartlaub. Well, he has finally responded and his reason for delay was with good reason. Here is Alex's Bio…………
OK I can finally submit this as what has become my second obsession can now take center stage as I welcome the Return of the Mash Tun. See, I come from a huge family of first generation Star Wars fans and this past fall was a bit hectic for me, chasing down and hounding George Lucas for any advanced knowledge of the released Star Wars sequel, The Force Awakens. I can say with certainty that he didn't really know much. As I cornered him in the bathroom of a local Burger King, and he was reaching for his phone to call in the 501st he was very adamant that I was chasing down the wrong guy. I needed to be asking JJ Abrams. Again, a difficult nut to crack. But when I asked the J-man (as I called him) about some potential plot hints at the upcoming movie, he acted like I was "disturbing" his bath. I mean, come on man, the door was opened. I grabbed a beer, and closed the toilet seat before I sat down to chat. He owes me that much. But I digress and there is still a court case pending so we'll just leave it at that. After my wife Jillian posted bail I grabbed a keg of homebrew and camped out in front of the theater for a few weeks. No big deal. I've pretty much seen the movie about 13 times so far since the 18th.
But it's brewing you seek in this story, yes. It's brewing I will give you. I started homebrewing shortly after Episode 3 was released. Since I thought at the time the full story has concluded I needed something else to pass my time, so I started brewing. I started out as others have in the past, with a little blue Bantha milk….sorry bad joke. I started brewing with extract and found I really enjoyed the hobby. I enjoyed fruit beers in particular, and although my craving was strong, my shame was unequaled…..it was almost as if I made out with my sister or something. So as I started to delve into the dark side of craft beer enjoyment, I found if I wore my Stormtrooper helmet or costume to bars, I got a lot free drinks, even fruit beers. So that habit stuck.
A short time after, my wife found out a guy in her Triathlon club also brewed, and it just so happened that my carboy had a bad motivator, and she suggested I give him a call to see if he had one I could borrow. That was how I was introduced to the Manty Malters group. It wasn't much longer after I joined and I had a considerable number of extract beers under my belt that I felt I was going to make the jump into all grain. When I brought this up to the group, they were very supportive. I told them "I will not fail them, I am not afraid." "You will be….." they said. "You will be….." Ahhh, good times. But you know what they say, do or do not, there is no try. So I did. It's been all one big Jawa party since.
Dexter "Midnight Runner" Hoban & Justin "Iron Chef" Ulness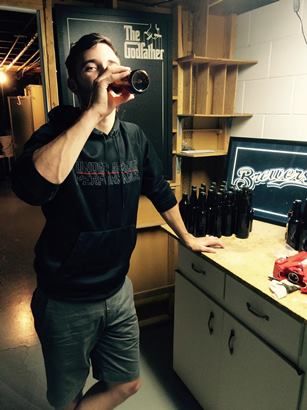 My name is Dexter Hoban, and my brewing co-hort Justin Ulness and I have been honored with the Brewer(s) of the Month award from the Manty Malters. The first craft beer we enjoyed was Guinness Draught, while in college. We attribute our foray into craft beer to my dad. He loves a nice frothy Guinness, or any beer different than your typical American domestic light lagers, and got us both to try a Guinness with him. We moved from Guinness into other craft beer like Leinenkugel's Summer Shandy which was blowing up in popularity at the time, and we were very excited when Festival Foods in Oshkosh started offering build-your- own 6-packs!
A couple years later after getting started in our careers, and tasting many more delicious craft beers, I decided I really wanted to try brewing my own beer. In the summer of 2014, I stopped by Grape, Grain and Bean in Manitowoc and Marc hooked me up with my initial homebrew kit and brew kettle. The rest, as they say, is our sudsy history!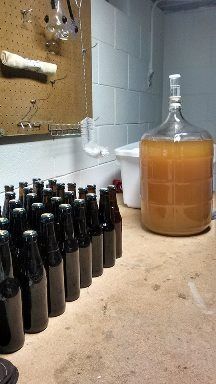 I quickly realized that it is no simple task to brew a 5 gallon batch of beer and decided to include a few friends who could assist with some of the heavy lifting (and eventual beer drinking). A beer tastes so much better when you can reminisce about the work you put into it.
In addition to Justin and myself, Matt has been there with us the whole way and has recently acquired some brewing equipment and a kegerator of his own! Honorable mention goes to Marcus and Brian as our fellow beer aficionados, brewing assistants and official taste testers.
My expertise is in IT/Computer systems, so I enjoy the technical and scientific side of brewing. As for Justin, he's the culinary brain of our operation. Justin attended the Culinary Institute of America at Greystone in California. (http://www.ciachef.edu/cia-california/) Together we collaborate to assemble tastes from the West Coast and the Midwest, and we have brewed some delectable beer.
To date we've brewed about 35 batches of beer for many occasions, competitions and holidays. One of our most important being a special "J&B Pale Ale" brewed for Justin and his wife Brittney's wedding! (The J&B is shorthand for Justin & Brittney…awwww…) Our J&B Pale Ale is a very refreshing summer pale ale brewed with juniper berries! As refreshing as a gin and tonic on a hot day, it can even be enjoyed with a lime!
After our first 4 extract batches, we decided we wanted control over the whole brewing process and made the change to all-grain brewing. It has been a blast formulating recipes with a professionally trained chef! Our most interesting beer and favorite stout, of those that we've brewed, is our Roasted Pecan Chocolate Stout. It has amazing depth and character, tastes delicious on a cold winter day in Wisconsin, and is as delightful as a piece of cake!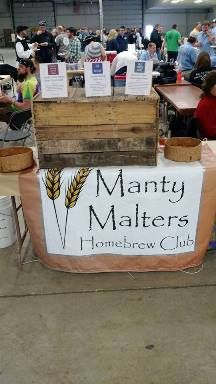 Thanks goes out to the Manty Malters club for this award. We've learned a lot from the other members who have been brewing many more years than us! For those interested in getting into homebrewing, if you're in the area come on by a Manty Malters meeting! There will most likely be beer to taste and we love answering any questions about beer or brewing in general, no matter your skill level! We meet the first Thursday of every month at 6:30pm at Kathie's Stage Door Pub in Manitowoc. It's a fun evening once a month to get together and enjoy and discuss some tasty beer!
Basil "Brew Law" Buchko
Today you have the honor of meeting one of our newest Member's, Basil "Brew Law" Buchko. Basil has just joined us a few months ago, so this is the perfect opportunity to get to know Basil.
As far as my private life goes, I'm married with 2 children. To make a living, I am an attorney. Insert lawyer joke here (I'm sure he's heard them all).
I started brewing beer in 2007 and at that time I started with extract. Back then I brewed about 8 batches before I took a break from brewing for a few years. My passion for brewing was sparked again in 2013. I also brewed my last extract batch in February 2013 and went all-grain in April, 2013. Between April and July I have brewed 14 batches. My favorite style to brew are IPA's. The water source I use is the Kossuth well water, just off Highway Q in Manitowoc for all my beer. I don't try and manipulate the water and have enjoyed my results. My favorite craft brews are Black Huskey Pale Ale, Sproose Joose, and 3 Sheep's Really Cool Waterslides.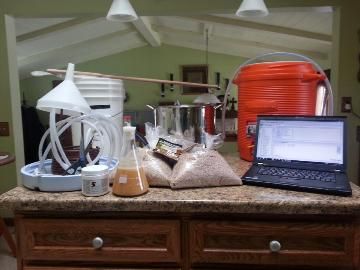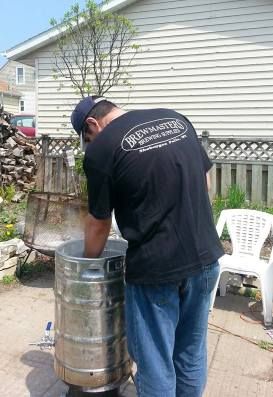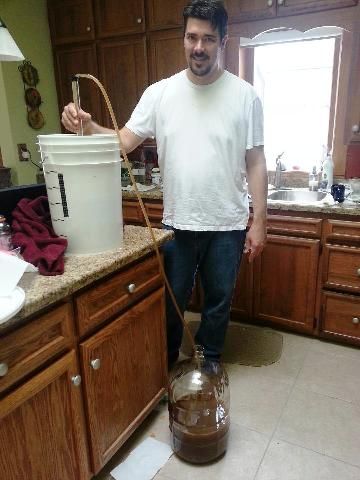 Brent "You can call me Pickles" Wilkerson
Ok fine it's my time for a Meet the Malters bio, so here it goes. I've always been an admirer of good beer, which most homebrewers are but my story is a little different.
My homebrewing adventure actually starts with something scary, cancer. My wife Lynn had to go through a battle with breast cancer. Which is trying for anyone and she has been cancer free now for 2-1/2 years but only after surgery, chemo and radiation. Lynn and I started going to a cancer support group in Manitowoc and there was another person attending the support group, co-owner from Grape, Grain and Bean.
We didn't talk homebrewing at the support group but we did talk and chat monthly. Then a week before Christmas of 2012, Lynn and a friend were going Christmas shopping in Manitowoc. As they were leaving I jokingly said "Hey you know you could go and visit you know who at Grape, Grain and Bean."
Well, Lynn did go and talk to them at Grape, Grain and Bean. Much to my surprise she came home with a Brewer's Best deluxe equipment kit and Brewers Best German Oktoberfest extract kit. I had no idea that she was actually going to go there let alone come home with everything to get started. And to think I was only joking. But my wife knows me all too well and knew I would love this hobby. It was a great gift for me.
Lynn said I needed to do a batch every month for the first year, and well I did. Starting first with the Oktoberfest. Then a Brewer's Best Red Ale followed up with Whiskey Barrel Stout kit. Next, I made an extract blonde / Bud clone, recipe I got from Scott Kohlman. Then I did the Saison d'Ete Clone war, yes Dave Taylor I used agave nectar. Next I made a Graff, the "Brandon O" version from here. (Link: http://www.homebrewtalk.com/f81/graff-malty-slightly-hopped-cider-117117/ ) Then I went and observed Adam Davidson making an all grain batch of beer. Afterwards I was convinced I needed to switch to all grain.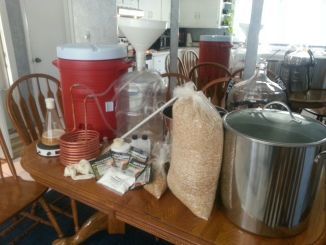 So my first all grain batch was a 5 hop IPA. Followed up with a Honey Cream Ale and then after Lynn tried Brian Lesperance's Strawberry Blonde at Pinecrest I made a Strawberry Wheat. Next I did a Raspberry Chocolate Milk Stout and then a SMaSH Pale Ale. Ending with a standard Hard Cider. That should be 12 batches for a year.
Besides homebrewing, I enjoy canning. I can salsa, pickles, sauerkraut, dilly beans and pickle relish. I also make kimchi and hot sauce from scratch. Homebrewing and canning have a lot of similarities like sanitary practices, boiling, patience and following a recipe and instructions.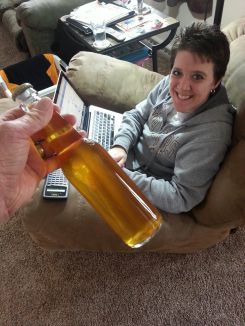 For my life away from homebrewing … well married, father of two, step-father of two, we have three cats and a bearded dragon. Originally from Iowa and been a Wisconsinite for about 16 years. Professionally I'm a CAD/CAM/Engineer and all around computer geek for almost 20 years. We enjoy traveling. And we enjoy it so much that Lynn and I took the kids, our parents, our oldest daughter's boyfriend and got married in Jamaica. We've also been to the Dominican Republic and Rivera Maya. It's just too bad we can't travel and brew beer all the time!
Brian "El Presidente" Lesperance (Past President)

At the time of this Bio, I am the currently serving my third year as President of the Manty Malters. Also, I have served two years as Vice-President of the club.
The way I got into homebrewing, was that I received my first homebrew kit as a gift from my parents in 1997. When starting out I only brewed a few batches a year as partial boil extract kit brewer. It wasn't until I joined the club in 2005 and started to meet fellow brewers that I was able to expand my brewing knowledge from partial boil extract to full boil and eventually all-grain. I prefer to brew German Ales and Lagers but I have also experimented in smoked beers, oaked beer and fruited beers. But some of my favorite beers of which I have brewed include a German Pilsner which is similar to Bitburger, Belgian Blonde, Imperial IPA, and Pumpkin Spice Beer.
If you are local to the area and have attended the Manitowoc Jaycee's Beer Lovers Brewfest, you may have had a change to try some of my homebrew. Some of the beers I have brewed for the Manitowoc Jaycees Beerfest include a Decocted Hefe Weizen, Strawberry Blonde, Cherry wood Smoked Wheat beer, and just this year a Cascadian Black IPA. I also enjoy brewing at Pinecrest Historical Village and giving classes or brewing demonstrations to further the public awareness of home brewing.
Homebrewing is not my only forte, I also am a fan of many commercial beers. Some of the commercial Beers I enjoy include Arrogant Bastard from Stone Brewing, Fatty Boombalatty from Furthermore, Racer 5 from Bear Republic and Leffe Blonde.
I also grow some of my favorite varieties of hops. The varities I have growing at home are Hallertauer, Tettang and Fuggles. I often brew with these hops as well. Aside from growing my own hops, I also enjoy building my own brewing equipment such as a counter flow wort chiller, stir plate, and pump case.
As far as any future brewing goals go, I would like to become a BJCP judge in the future.
I am married to a wonderful woman Sue who vigorously supports my hobby and club activities. Sue has recently began brewing she enjoys Blonde ales, Oatmeal Stouts and can even appreciate a good IPA. We have three dogs and live in Seven Lakes area near Whitelaw. To pay for my brewing obsession, I am a Service Technician for a Voice and Data Cabling Company.
Brian has submitted 3 of his recipes if you would like to brew them. They are in Beersmith 2 format. Cascadian Black IPA – Outsourced Blonde – Strawberry Blonde
Bryan "I can brew a helluva Pink Beer" Golay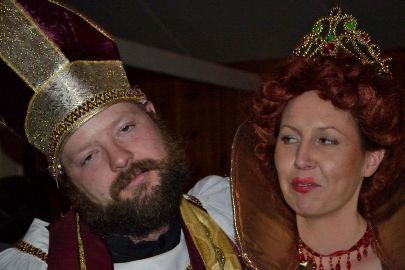 Salutations my thirsty friends! This is Bryan Golay coming at you live from Cleveland, Wisconsin kickin' it on the old school tip. I live with my wife and two dogs in a sweet little brick house surrounded by retirees that drop by with banana bread on the reg. Pretty idyllic, if you ask me. Enough pleasantries, let's talk about brewing beer!
As a young man, beer was used to get drunk. The more you could drink, the manlier you were. Behold the mighty senior who drinks Bud Heavy, strolling through the party crushing cans on his head thinking it was a strong brew. From there, I transitioned to drinking whatever (not a picky eater).
I don't remember what exactly caused me to grab Samuel Smith's Oatmeal Stout off the shelf. But after I drank that sweet, viscous treat I was hooked. Alas, I lived in central Iowa, not exactly Mecca for craft beer. What does an industrious young man do in such dire times? Make his G-D own beer (ask his wife to buy him a brewing kit for his birthday).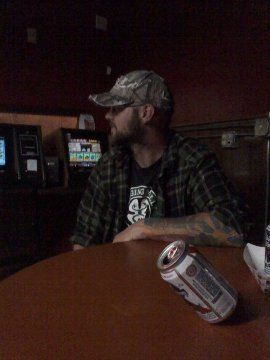 I dove in head first with my first brew, making two batches that first day. Both extract kits from an online store: Moose Drool Clone and a Cream Ale. Four weeks later and after the first sips I was happy, but not ecstatic. Hooked, I had a voracious appetite for anything brewing related and brewed immediately when I had carboy space. I'm fairly confident I ended up losing a few friends as I delved deeper into the rabbit hole, but there was no going back.
I bought some copper tube, a garage sale angle grinder, and dug a cooler out of the basement and made myself a state of the yard mash tun. Representing all grain, son. Man, the first two brews were terrible. Ridiculous. After some more trial and error (and reading and research) I started to churn out some decent beers. Beers that people could drink with a straight face.
Now I'm just trying to make beers I want to drink. Like if I had a fridge full of commercial craft beer, I'd still choose mine. This would be way easier if I ever got around to getting my kegging setup off the ground, but eh, bottling is awesome and not at all wasteful and I get to have all this glass sitting around looking pretty and making my basement not look roomy.
Dave "The Whiteness" Lichterman
Hometown: Two Rivers, WI
Homebrew club: Manty Malters for life!
I started brewing in 2008 and my first brew was an extract batch. It was a Brown Ale kit I received as a Christmas Gift along with my starter homebrew kit. Since it was my first brew, it would not have mattered what it tastes like….I BREWED BEER! It was awesome. Definite cool factor.
My favorite style to brew is the Green Flash IPA clone dubbed "Hopollo 13+". There are seven ounces of hops in just a 5 gallon batch. There are 6 hop additions with each overlapping the preceding and following additions.
My favorite style to drink? Well, I spent most of my time brewing west coast IPAs, pales ales, and blondes. Lately my taste buds are changing and I've really taken a liking to light bodied, roasty beers. Steven Point's 2012 Black Ale is my flavor of the month.
My least favorite style of beer quite simply is infected! As long as a beer is clean and smooth as a baby's ass, I can appreciate every style. However my all time most memorable beer would have to be David Taylor's Jalapeno Porter. F'ing delicious and enough heat to keep you putting them back.
My home brewery which I dubbed "Point Beach Brewhouse" is where I practice my craft. I produce 5 gallon batches by utilizing a 7.5 gallon stainless steel boil kettle, stand alone propane burner to keep me out of the kitchen, copper wort chiller, plastic fermentation buckets, and a sweet kegging system because pouring out of a tap in you basement is righteous.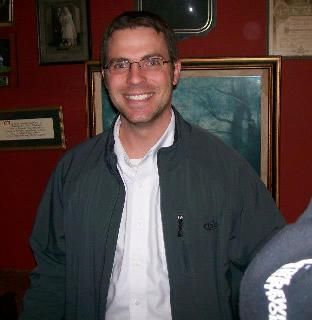 I do have some brewing goals for this year. Looking forward I'm looking to get back into brewing more regularly, at a minimum of once every two weeks. In addition, I would love to start small batch brewing as it allows you to experiment more. I'm curious to see the difference when brewing using base ingredients and only changing one variable (ingredient or process). Dry hopping, using different yeasts, or temperatures can make a significant difference.
I think I still have "The Last Jalapeno Porter" in the fridge…..gotta go.
David "The Engineer" Taylor

Hey, Dave Taylor here, a.k.a. David M. Taylor, or to those on the various online homebrewer forums, dmtaylor or dmtaylo2. And so what?! Well, here's what. I'm a chemical engineer by degree, and I'm a Nuclear Coating Specialist and a NACE Certified Coating Inspector (Cert. No. 7998). I do a lot of different stuff at the local nuclear power plant, but the most important job I have is to make sure the paint won't fall off the walls of nuclear reactor containment buildings during a postulated large break pipe rupture when we have to recirculate the spilled water from the basement of the containment back into the reactor because if all the dust bunnies inside the containment building combine with little flakes of paint it can clog the strainers down there and inhibit the water from getting pumped back into the reactor which could cause a meltdown.
So what does that matter? It doesn't. Forget I ever mentioned it. It's how I make my living, and that's all. Now, here comes the good stuff.
Once upon a time, I think it was 1999, my girlfriend who knew I was into craft beer bought me a couple of homebrew recipe books for my birthday. For a guy who also loved science and loved to cook, this was one of the best gifts I have ever received in my life. I had never seriously thought about homebrewing before, and yet about a week later I had picked up Papazian's book and my first kit and I was immediately hooked. I soon dumped the girl (*a tear drop from the corner of his eye*) but I kept up the passion for the homebrew. Looking back I'm sure those first dozen beers really truly sucked, but I loved them because they were my own creation. I started designing my own recipes from day one, with a little help from Papazian, and later, Ray Daniels' Designing Great Beers. Great books. I used to read DGB every single day, for like 2 years. My copy is all worn and stained and falling apart, I'd read it so many times over and over.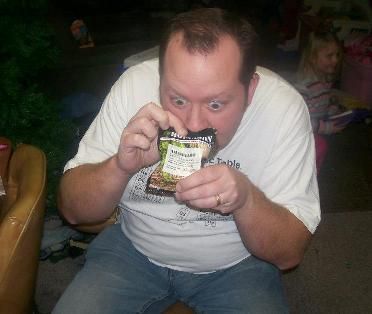 About 3 or 4 years later, I felt I was making good enough beer to start entering competitions. The very first competition, I won a second place ribbon, so again of course I was hooked. I remember it was my favorite recipe at the time, Yellow Snow Blonde Ale, that took the ribbon. I had already brewed the same recipe like 3 times and had been tweaking it to get it right, and it apparently paid off. So I entered a few more competitions over those next few years, and occasionally won a ribbon. It was always exciting to get validation that I was making pretty okay beer.
It wasn't long after that when I was invited by Marc Mecca of the Grape Grain & Bean to join a little club he was trying to get started, something by the name of the Manty Malters. Sure thing, I wanted to get in on that action. And it was just what I needed. I rarely missed a meeting then, as now, as I always just loved tasting new and experimental beers, talking and learning about homebrewing. So I suppose I was one of the original members of the current resurrected club. Apparently the same club had existed 10 years before but died out, so we stole the name and made it our own. In the early days I was quieter and less sure of myself. But in those first few meetings, a guy by the name of Jason Johnson asked if anyone else was interested in becoming a BJCP judge, as he had found out about a class and was going to sign up. Shitchyah!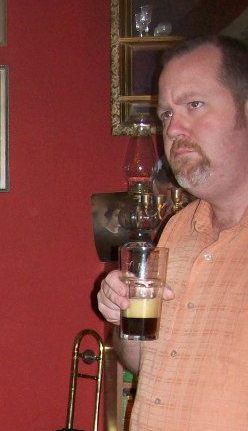 So Jason and I went through the BJCP course offered by a corroboration between Titletown Brewing and the Green Bay Rackers. We were taking classes on a weeknight for 12 weeks at the House of Homebrew with a handful of others, including Dave Oldenburg, who was then a gump like us, later to become none other the head brewer of Titletown Brewing Company. I learned a LOT through that BJCP course. We tasted just about every single style of beer that exists, and practiced judging them. To anyone who has even the slightest inkling of wanting to learn more about beer and/or judging, I strongly encourage it when you get the opportunity.
It was around this time also that I made the gradual moves from extract with steeping grains to partial mash, and then to all-grain. I remember my first taste of that first all-grain beer. It was another blonde ale, this time a Shipyard Export Ale clone. It totally blew me away with how fresh and grainy it tasted. And it was so easy to brew! Just a simple blonde ale. I knew from that day forward that I was never ever going back to extract brewing.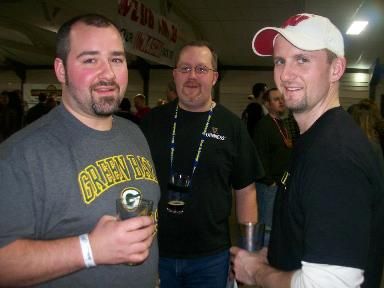 In those early all-grain days, I ran a ton of experimental batches. I wanted to know exactly what the different mash temperatures would do for me, mash times, yeast strains, hop varieties, you name it. I've got a lot of tables and graphs that I still use and update to this day. It's an engineering thing. The most important thing I learned from all that: Question ALL rules of thumb, don't be afraid to play around and try new things, and develop your own rules based on your own experiences.
I still read a lot, constantly trying to learn more as well as to help other novice and intermediate brewers, and I contribute to a lot of homebrewing forums on an almost daily basis. My main one is Northern Brewer. I also spend a good deal of time on the AHA homebrewing forums and several others. It's gotten to the point where I feel I know every opinion on every topic, and have of course formed my own conclusions on each of them based on my own experiences.
Other things virtually unique to me; I brew almost exclusively in small 1.5-3 gallon batches. Why? Lots of reasons. I don't drink a lot and my beer tends to go stale before I can drink it all, and this problem would be far worse if I was making standard 5-gallon batches each time! With the smaller batch size, I get to keep a heck of a lot more variety in my cellar. At any given time, I have around 10 different batches of homebrew in the cellar. So for me, the smaller batches make sense. Also it's quicker, easier, and cheaper to brew small batches. I can mash in a bag and sparge very easily. I can do everything on my stovetop. I don't have to wait as long for the beer to get up to a boil. My equipment doesn't need to be so big. I can chill in a tub sink using a little cold water bath. I don't need to make huge starters for every batch. Lots of reasons smaller is better. But anyway.
I like cider almost as much as beer. I've tried probably almost 100 different commercial brands of cider, and I have planted my own cider apple ochard in the backyard. I also love mead. I have made my own cider, mead, and wine on occasion and it usually turns out pretty darn good. It's all a lot easier to make than beer – just take your raw juice or honey-water and add yeast! I'm really not a wine guy though. It's okay to taste but it's too dang expensive.
I am a self-proclaimed ghetto brewer. Why? Well, I've been brewing for 13+ years, and yet, it took me 13 years to buy glass carboys. I also used my blender to mill grains for 4 years before receiving a proper mill as a GIFT. I boil on the stovetop and to this day I do not own a propane setup at all. Nor a chiller, I use a cold water bath for that. Yes, I am an engineer.
A few of my most famous beers include the Jalapeno Porter, 1883 Chocolate Rye Ale, Fiery Future Vienna, Smoked Harvest Apple Ale, Sour Smoked Sumerian, and Yellow Snow Blonde Ale. I love all kinds of beer but I have a special place in my heart for all German lagers (the real stuff from Germany only!) and Belgians. My favorite beer is Gulden Draak, which is a delicious Belgian strong dark ale.
That's about all I could think of to write about in a couple of hours. Happy brewing!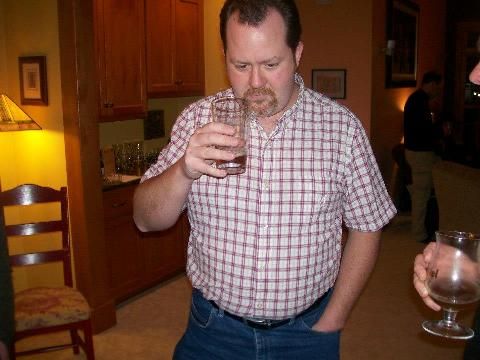 Jason "Just Some Random Guy" Johnson
As far as my personal life goes, I am married to Jessica Johnson (a wonderful massage therapist) and we have 2 boys ages 6 and 1. We live right here in Manitowoc. To pay the bills, I am a Senior IS technician. Aside from brewing, I enjoy cooking. I do low and slow BBQ and Grilling mostly. But I understand if you came here to read this, you are probably more interested finding out about my hobby. Brewing and drinking beer.
I started to become interested in craft beer back in 1995, when I turned 21. Up until that point the definition of beer for me was either my dad's beer which was Miller Lite, or whatever beer I could get my hands on…usually Busch Light. If I got some Budweiser I thought I was really getting something special. It was not until I met a new co-worker who introduced me to yard glasses of Hacker Pschorr Weisse at Kurtz's Pub that my eyes were open to various flavors beer had to offer (Yards of beer still have a special place in my heart). Shortly after this, a friend of mine said "Hey, I heard you can make your own beer. We should look into that", so we did. I thought it appeared to be a lot of work so we dropped the idea. Then my wife bought me my first homebrew kit for Christmas a few years later. It was all downhill from there. I wonder if she regrets that decision to this day.
I joined the Manty Malters back when Marc Mecca reformed the group sometime in the early to mid-2000's. I'm not exactly sure of the year it was reformed. Since then, I have served at the club President for 2 years and currently have taken on the role of the webmaster for our little webpage. I enjoy my time with the Malters because quite honestly, there are some good friendships to be made and I love to hear about other people's processes and their way of making beer. Aside from a few key fundamentals, there are many ways to make good beer, both with extract and all-grain and I really enjoy hearing what others are doing. It really gets under my skin when people say one way of brewing is better than another, because that is simply not true. If it was, people winning awards would all be doing the same exact process, and every professional brewery would be doing things exactly the same. And we know that because of interviews done on the Brewing Network, none of the top breweries in the nation are doing things exactly the same. Ok, I will end my mini-rant now.
Shortly after I started brewing I started to develop my own recipes. That appealed to me a lot more than using existing recipes. I liked the idea of making my own craft beer personalized to my taste. Once I felt my beer was getting fairly good, I thought I'd enter into competition and ended up winning a medal. Well, that peaked my interest in what being a beer judge would be all about. So I contacted the BJCP to find out about stewarding a competition, and they pointed me in the direction of the Green Bay Rackers. Instead of attending a competition, I ended up enrolling in the BJCP prep course along with fellow Malter member David Taylor. I should also note, this is also when I converted from an extract brewer to an All Grain brewer; during the BJCP prep course. Well, I ended up taking the exam and passing with a score good enough to earn the rank of Certified Beer Judge, today I hold the rank of National. Whenever they hold a new prep course, I try to head up to Green Bay to help teach others who are interested in becoming judges. I am also teaching our clubs BJCP Prep course starting in May 2014.
I also like to write about beer, which you can probably tell from the length of this bio already. I currently have my own blog www.barleypopmaker.info which I enjoy doing when I have time. It was fun to watch my blog grow from a few dozen hits a month, to now I get an average of 5,000 readers a month and an average of 25,000 total hits. Most visitors are coming for the experience I have with home roasting grains of which I have a few posts on the subject. I have also written a short book on the topic which is for sale on Amazon. I also completed another book project which focuses on troubleshooting and fixing problems in homebrew called "Troubleshooting Homebrew".
As far as the types of beers I most like to brew, I really like to brew American Styles (Pale Ale and IPA), but have recently started to move more into the witbier range. I have brewed 4 varieties over the past year, each was finished off very quickly (one was served at the Jaycee's Brewfest, it was a black wit). I have won some awards for my beer ranging from 1st through 3rd place and also a silver certificate at the NHC. But don't let that fool you; I have had my share of beers that fell short of what I was shooting for as well. But that's comes with the territory when you are developing your own recipes. You just make changes, and move on.
For commercial beers, I really like New Glarus. I may not like every beer they brew, but I think most of their offerings are solid and very well brewed. I would say they are my favorite commercial brewer. My favorite brewpub would easily be Titletown brewery in Green Bay. I also really enjoy seeking out beers I cannot normally find, and I tend to hoard them for that special occasion. I can't say one particular beer or style is my favorite, because there are such great beers for so many occasions.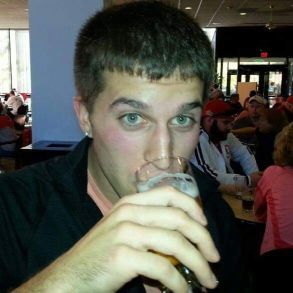 My name is Matt "New Guy" Schnell and I have been selected as the Brewer of the Month from the Manty Malters. To be honest, it took me a while to get myself into trying different craft beers. I was pretty stubborn about only drinking different domestic light beers. After some convincing from Dexter Hoban (another Manty Malters member), I started being a little more open minded about trying different craft beers, and I that was when I finally realized what I was missing out on. Over the years, I have found that the craft beers I enjoy the most are any kind of IPA or Stout. It didn't take too long after trying my first craft beer that I started brewing beer.
I believe it was the summer 2014 when I started brewing beer. I have been brewing beer with Dexter and Justin Ulness. Dexter had bought a homebrew kit from Grape, Grain and Bean and we quickly found that we had a passion for this hobby! I remember that the first few beers we brewed were not up to par with how we were expecting them to turn out, but over time we have found a process to our brewing that has come to be successful. We mainly have been brewing at Dexter's house because he had all of the equipment, but over time I have finally purchased enough equipment of my own so that I can continue to brew more at my house. Along with purchasing my own brewing equipment, I have purchase a few ball lock kegs along with a kegerator. After brewing some beer that we were proud of, I really wanted something simple at my house to serve the beer to friends and family.
Dexter, Justin and I attended the Advanced Homebrew Conference in Milwaukee back in January, 2016 and we determined that there were many things we were not taking into consideration throughout our brewing process. I found that this conference was extremely helpful to us and I believe this will help us tremendously as we continue to brew in the future. The three of us also attended the Fon du Lac Beer Festival and had a spot on Homebrew Alley representing the Manty Malters. It was a great experience for us as we received great feedback from the attendees of the beer festival. We brewed a Roasted Pecan Chocolate Stout, Juniper Berry Pale Ale and a Hard Cider which all went over very well by all that tried them.
Thank you to the Manty Malters club for the recognition. I haven't been apart of the club for too long, but I have learned a lot already and I really am excited for what I can learn in the future to the different opportunities I'll have down the road!
Nick "USB" Port
Well, I guess I'm up next. My name is Nick Port, in college they called me the Universal Sausage Boy, because man I love sausages. You can bet at least one meal a day I'm eating a sausage of some sort, be it a simple Frankfurter or my world famous Linguiça soup. I am the originator of the world famous Sausage Party festival in Taus, Wisconsin. Here is a picture of our first year, I'd say it was a banging success.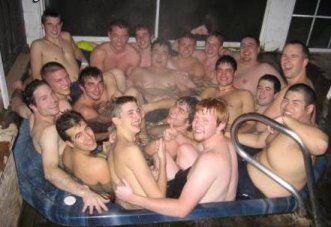 So how does this relate to brewing you ask? Well, during one of my trips to the largest sausage festivals in the world, which takes place in Germany, I was introduced to many beers I just never was exposed to in the US at that point. So it peaked my interest and I came home with a passion for beer and stuffing as many sausages down my throat as I can fit in a given day. Unfortunately, there were not many beers in the US that could curb my cravings so I turned to Papazians book on brewing and it was all downhill from there.
My favorite styles to brew in the early years were Alts, German Wheats, Bocks, and Oktoberfest. But as time marches on, so has my taste. My fever for experimentation shot forth past just swallowing sausages, and morphed into creating unique and interesting beer combinations, and sometimes……yes, it has included sausage in some recipes. My Chorizo Stout and Peperoni Porter were not half bad. But my real winners were my Peppery Egg White American Lager and and my Pork Belly Lambic were ahead of their time.
I joined the Malters after hearing that they have a meat party every summer and I thought for sure there would be some delicious sausages, but alas….it was just some pork butt. That's OK, I'll stick around for the beer.
Russ "Shutterfly" Olp
I've always had an interest in finding more flavor-full beers. (Anyone remember Stroh's Dark? Only one bar in Platteville carried it.) The first real microbrew I remember drinking was in the early 90's after the Underground Tour in Seattle. Steam Ale.
In 2001, after moving back to Wisconsin, I received a homebrew starter kit from my wonderful wife. She thought I needed a hobby. And she found out that the same equipment could be used for wine (she doesn't drink beer). Since then, I've made 34 batches of beer, 9 batches of mead, and 50 different wines. That's a lot of fermentation in my basement.
Starting with extract kits, I quickly moved to adjusting recipes and developing my own combinations. But it took 10 years to take the next big step. In 2012 I moved to all-grain, adopting the Brew-In-A-Bag method. With this step I started reading and learning a bit more and my beers are now more consistent and a little better. Participating with the Manty Malters has given me e a place grow and learn from the vast experience of the other members.
The selection and combination of various ingredients are key to a good beer. Then you run through the process which may vary with different styles. Wine is much simpler. No mash; no boil. Just put the juice or fruit in the bucket with sugar. The quality of wine is all in the grape (or fruit). There's still room for craftsmanship in winemaking but if you use good fruit you'll get good wine. I still enjoy making it nearly as much as beer.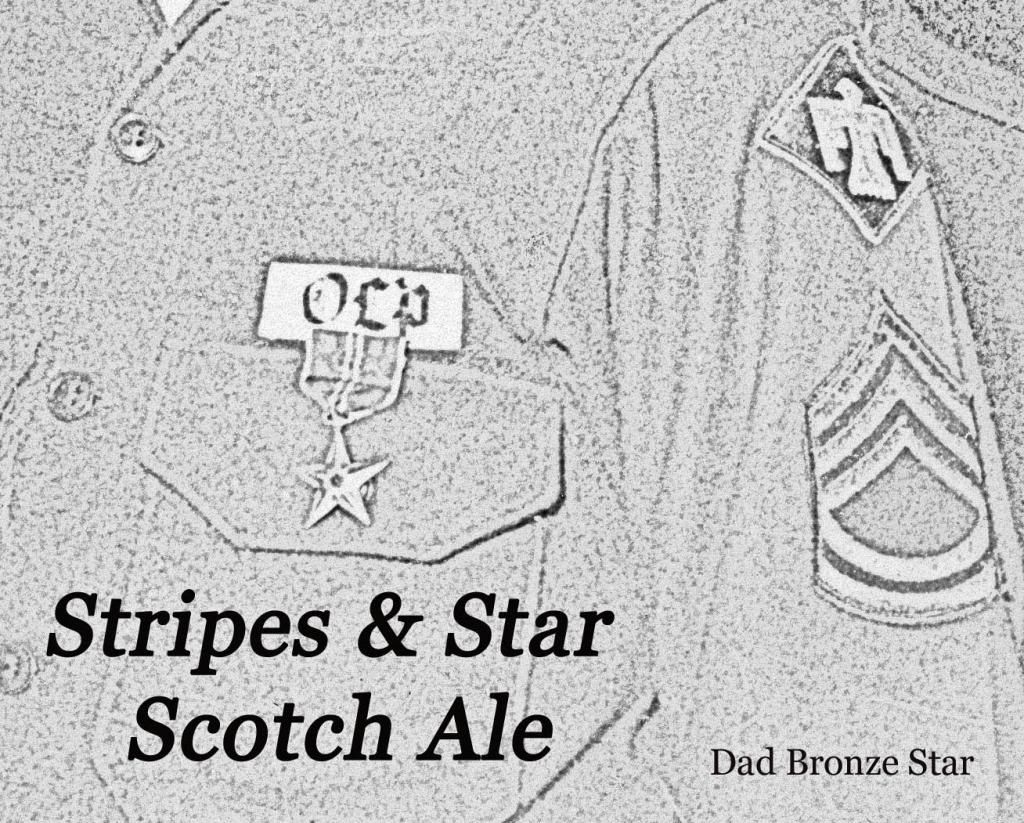 My wife and I raised three great boys, homeschooling them through high school graduation. (Fermentation can be a great science lesson.) My other interests include building rockets, leading a 4-H club, serving at my church, the Packers and photography. With all of that, much of my brewing focus is on being time efficient. I've settled on Brew-In-A-Bag because it uses less equipment and can result in a shorter brew day. I keg rather than bottle because moving the beer into one large container rather than 60 small containers is less time.
I also like to find ways to combine my hobbies, and love creating bottle labels from the photographs I've taken. A few of samples are around this page. I hope you enjoy them.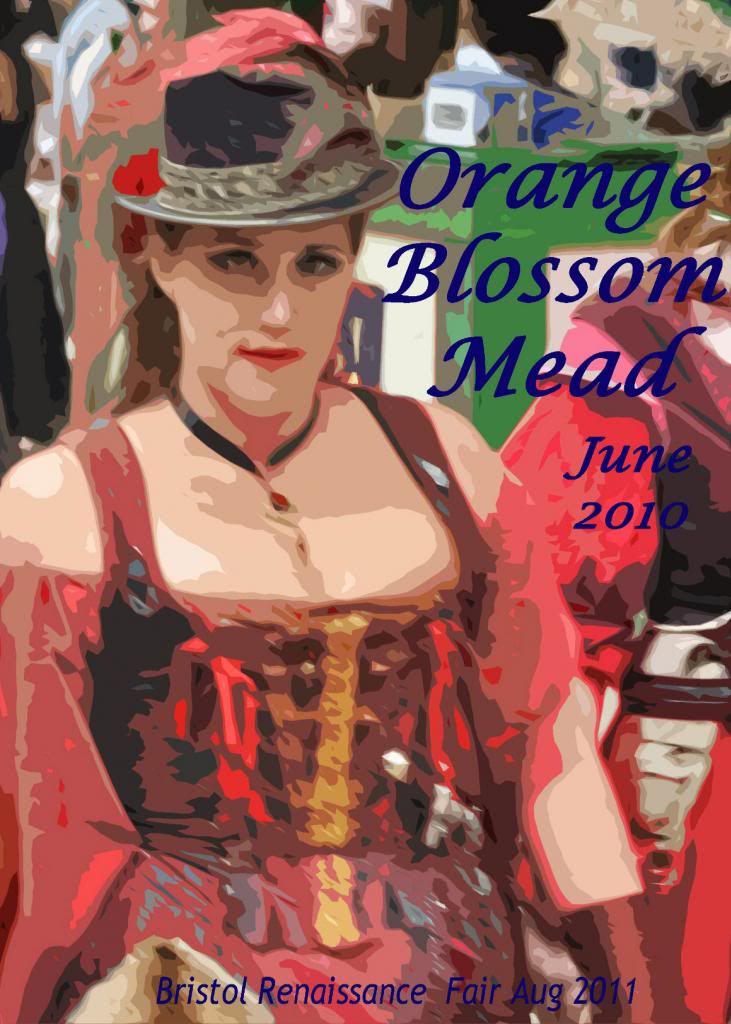 Scott "Dr. Scott" Voskuill
Scott Voskuil-Head Brewer: Doc V's Alewerks (spare me your yeast jokes, I've heard 'em all)
It's hard to remember all of the details of my homebrewing genesis. I guess I have to go back to 1994 when my wife bought me my first homebrew kit when we lived in Milwaukee. Brewing seemed like a great hobby, but it made even better financial success due to the lack of beer money during medical school. It's weird to think about it, but at the time I was not only ignorant to the process, but had very little resources to get more information. At first, I broke into Charlie Papazian's first edition on homebrewing and did my best. I worked with extract kits that had collected dust at the back of a gas station/convience store and I was fairly disappointed with the results. Not to be deterred, I eventually found a homebrew supply store with an owner that was a firm believer that good beer is made only with maximum visible yeast activity. As a result, most of my beers were fermented starting at about 90f and had that nice hot, medicine-y flavor that we all look for in a quality beer. Give me some slack here, there was minimal internet at the time, few homebrew books, and no club to join for better info.
Nevertheless, I stuck with it and eventually made some quality breakthroughs with the advent of better books, homebrew forums, and better ingredients. I moved to northern California and had access to a sweet variety of hops- then moved from the stovetop to a turkey burner with extract. Fast forward to Manitowoc where I spent plenty of time on forums and asked a lot of questions. And who should have answered one of my queries other than user "DMTaylor" who seemed to be on every forum. He saw my address tag and invited me to Manty Malters. Since then, I've gathered as much info as possible from you guys and it has certainly made my hobby more enjoyable.
I currently brew with a lazy man's system. I started with brew-in-a-bag back when the Australians posted the "new" process, and I like the "one vessel" system since I despise cleanup. After brewing awhile, some friends were coming over on a regular basis and kicking kegs in my garage with some regularity so I needed to increase production. I made up a system where I could brew 15 gal batches with the same single-vessel concept and I've stuck with that process up to today. As a result of the bigger batches, three of my partners bought kegging systems for their basements, and I am slowly destroying their livers as well. I use the other excess kegs for charity auctions, and that keeps the soldiers (empty kegs) in regular rotation.
I love the process, I love the culture, and I love the beer. What other hobby allows you to open up your garage door on a Saturday night and have half of the neighborhood show up within a few hours? In all seriousness, I greatly appreciate the education and camaraderie from the members of this club. I am in your debt, gents.
Scott "The Procrastinator" Kohlmann
My first beer made was a Red Ale from extract on December 15, 2004. A friend of mine was making beer at the time and it wasn't hard talking me into giving it a try as well. I first started having a thirst for craft beers when I lived in Illinois. A coworker was a homebrewer and invited me to my first brewfest. Also, by living in the Chicago area it didn't take long to get hooked on Honker's Ale. Since then I've made 75 batches of beer, thankfully most of them were very delicious. I have been a member of the Manty Malters since the restoration of the club and I am a past president. I am also currently the club treasurer.
In 2009 I finally dove into the world of all-grain brewing. I make mostly ales and prefer amber ales, pale ales, and porters. Currently in the fermentor I have a barleywine and next up is a hoppy amber ale made with locally grown hops. I enjoy going to as many brewfests as possible each year and supporting my club members with advice and help.